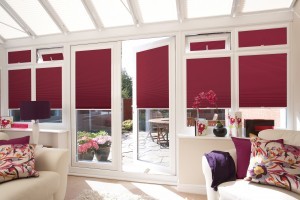 You've spent all that money on a lovely new conservatory that now feels like an igloo. No matter what you do you can't keep it warm during the winter months, worse still you can't keep it cool during summer. Are you really happy using that lovely new room for only a few months a year? Well now you can use it all year round.
Fitting blinds will greatly improve the thermal properties of your conservatory and will help to provide a room that you can use all year round.
Ideally you need to fit blnds to the side and the roof but at the very least you should have blinds fitted to the sides. A small electric heater will then provide enough heat to make the room habitable all year round.
TIP: Switch your ceiling fan onto low, heat rises but by keeping the fan running you will push the heat back down into the "liveable" area.
Any type of blind will greatly improve the situation but Perfect Fit® blinds will reduce the heat loss far better than any other type of blind. They are designed for PVCu windows and don't require any drilling or screwing. They fit snugly onto each piece of glass and have the added bonus of not taking up any window cill area. They are available as pleated or venetian. Another alternative is black out blinds. These have a heat reflective coating that not only keeps the conservatory cool in summer but will also act as insulation in winter.
Give us a call, we can fit vertical blinds to your conservatory for as little as £185.00 and our roof blinds are very competitive. We fit conservatory blinds in St Helens, Wigan, Warrington, Bolton, Chorley, Preston and Manchester
As well as keeping it warm in winter your blinds will help to keep the heat out in summer giving you a room to enjoy whatever the weather.
If you live outside of the North West then you can also buy conservatory blinds from our online blinds shop. We have an excellent selection of self fit made to measure vertical blinds and black out blinds. Be sure to check out our multiple blind offers too.